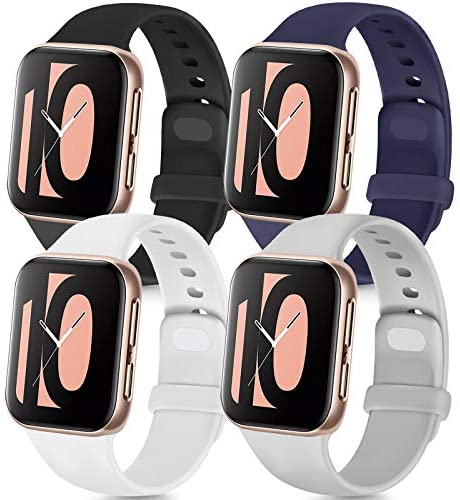 Product Description
Material
Leather
Leather
Leather
Leather
Leather
Package Includes
2X Leather Watch Bands Black & Brown
2X Leather Watch Bands Black & Brown
1X Leather Watch Band Floral Pink
1X Leather Watch Band Floral Red
1X Leather Watch Band Red
Compatibility
iWatch Series 1/2/3/4/5
iWatch Series 1/2/3/4/5
iWatch Series 1/2/3/4/5
iWatch Series 1/2/3/4/5
iWatch Series 1/2/3/4/5
Soft silicone Watch bands, enjoy your leisure time!

Product Product Features:Features:
Compatible with 2020 Apple watch Series 6 & SE, iWatch Series 5, Series 4, Series 3, Series 2, Series 1, Sport, Edition.Made of superior quality silicone material, stainless steel buckle and fastener with a little nub to make it fixed.Athletic and fashion style, lightweight and durable, you will enjoy the time for wearing the band.Multiple colors for you to choose, different color for your different mood and outfits.
Kindly Notices:
Don't be exposed to the strong sunlight.
If it's dirty, you can use a soft brush came with the band to clean with a little soapy water.
Clean the dirt and wipe it with a wet cloth.
In addition, if you go swimming on the swimming pool or seawater, you need to wash your band.
Wash your band with clean water after you leave, as the corrosive seawater.
FITTED PERFECTLY
Instead of a hard plastic stiff Bands, it's Made of custom high-performance Soft Silicone, soft and fits nicely over the watch interface. Fits great, looks great!
DURABLE MATERIAL
The smooth, dense material drapes elegantly across your wrist a, improves airflow and comfort, bring you a comfortable wearing experience.
MASHUP COLOR
A variety of colors personalize your watch to fit your mood and outfit in daily life, you can mix freely for unique styles!
S/M & M/L SIZE OPTIONS
38MM/40MM sizes are compatible with Smartwatch 38mm and Smartwatch 40mm; S/M size fits for 130-180mm wrists; M/L size fits for 140-190mm wrists;42MM/44MM sizes are compatible with Smartwatch 42mm and Smartwatch 44mm; S/M size fits for 150-200mm; M/L size fits for 160-210mm wrists.
Premium Material: Tobfit replacement Sport bands compatible with Apple watch band 38mm for women men are made of pure silicone and flexible elastomer. Easy to dry, make it more breathable and comfortable for your wrist. It also prevents skin from irritation, soft, lightweight and durable, make it doesn't sweat on the arm when you workout
Easy Installation and Safety Buckle: The replacement watch bands with hypoallergenic nickel upgrade stainless steel pin-and-tuck Buckle, it resolved rusty problem make skin-friendly. And the sport bands for iWatch comes with lugs on both sides, which locks onto your watch interface precisely and securely, avoid the watch from falling off band being loose
Multiple Occasion: Various Popular colors choices than original Apple watch accessories sport band for women men. Perfectly fit boys, girls, men, women, kids, make you different from others and fit any occasions, dress or mood in your daily life. Perfectly fit for runs, swims, rides, workouts, Parties, Climbing, Hiking, Camping, Traveling and more outdoor activities
24 Months Warranty: Tobfit do our best to provide you with the best customer service. We offer you a 2 year MONEY BACK guarantee or product FREE replacement No return required! If Amazon reject your return request or you have any problem, please CONTACT US without hesitation