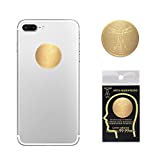 6 Pack- EMF Protection Cell Phone Anti Radiation Protector Sticker, Negative Ions EMF Blocker for Mobile Phones,Laptop and All Electronic Devices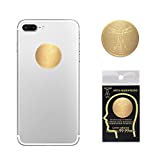 Price: $6.50 – save $8.45 (57%)!
Color: Pack of 6
Model: 5962894167
Brand: LLSME
Features
Reduce EMF: This sticker absorbs EMF and Counteracts harmful effects of EMF / EMR radiation generated by Electronic Devices, Reduce radiation by up to 99% with Radiation Shield Sticker.
How it work: Radiation shield sticker is made of radiation protection film and negative ion film, releasing negative ions that neutralizes positive ions produced by electronic devices, to protect our health from EMF radiation.
Widely Used: This radiation shield sticker as a EMR protector for Tablet PC, Cell Phone,Kindle,Computer,Air conditioner,Refrigerator,Microwave Oven, Printer,Washing machine,etc. It transforms radiations into other harmless forms without blocking signals!
Easy to use: You can stick EMR sticker easily to the back of your cell phone and other electronic devices. The EMF Radiation Shield does not degrade! Its very long life,no need to replace it yearly, will serve you for a long time.
Slender size: Light and thin enough that won't make the phone heavier, stickers avoids having a too big things behind your cell phone when you put it on a table,you can take it anywhere!Protect you and your family from radiation.
New from $6.50 (5 offers)