Amazingforless Smart Wrist Watch Phone with Camera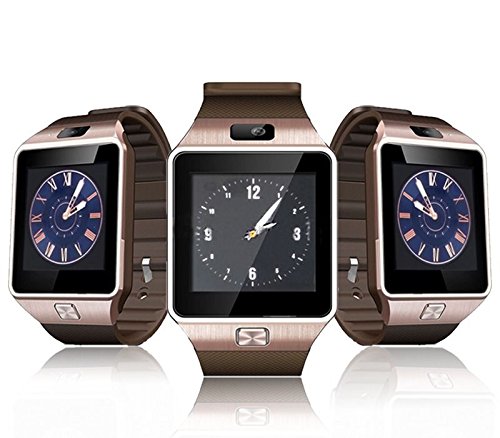 Amazingforless Bluetooth Touch Screen Smart Wrist Watch Phone with Camera – Gold
About Amazingforless:
Enjoy all of our Amazing Products at Amazing Prices!
Amazingforless is registered trademark of Aosmart Inc. and is exclusively distributed by Amazingforless on Amazon. Amazingforless trademark is protected by US Trademark Law.
Amazingforless Smart Wrist Watch Phone with Camera
Features:
Answer Call
Dial Call
Camera
Sim Card / Micro SD Card Slot
Push Notifications
Pedometer
Sleep Tracker
Calendar
Music Player
Anit-Lost Function
Remote Control
Message Reminder
Call Reminders
+ Many More!
Amazingforless Smart Wrist Watch Phone with Camera
Network & Connectivity:
SIM Card: single SIM card (micro SIM Card) – can be as a phone
lFrequency: GSM 850/900/1800/1900 MHz
Bluetooth: Bluetooth 3.0
Storage: RAM 128M, ROM 64M
External memory: support TF card up to 32GB
Display: 1.56 inch TFT LCD, 240 x 240 pixels
Camera: 2.0 M
Video Recording: support
Picture Format: JPEG, GIF, BMP, PNG
Music Format: MP3, WAV
Video Format: MP4
Languages: English, Italian, German, Dutch, Spanish, French, Polish, Turkish, Portuguese, Russian
Functions: Bluetooth dialer, contacts, call reminder, clock, anti-loss, pedometer, sleep monitor, sedentary reminder, calendar
Battery: 380 mAh
Talk time: 3 Hours
Standby time: 180 Hours
SMS: support
USB port: mini USB 5pin interface
Size: 43.5*40*11.8 (mm)
Gravity sensor: support
Package Includes:
1 x Smart Watch
1 x USB Charging Cable
1 x User Manual
Product
Brand
Feature
List Price
Amazingforless Bluetooth Touch Screen Smart Wrist Watch Phone with Camera – Gold
Amazingforless
HD DISPLAY: High sensitive capacitive touch screen; Perfect match technology.
CAMERA: Enjoy the convenience of snapping the best photos right from your watch.
SIM CARD: Compatible as an independent mobile phone with SIM card slot; Support up to 32GB Memory Card.
FEATURES & HEALTH MONITORS: Pedometer, Sleep Tracker, Message Reminder, Call Reminder, Answer Call, Dial Call, Remote Control, Push Message, Altitude Meter, Calendar, Music Player Anti-lost + More!
MAXIMUM COMPATIBILITY: Compatitble with all Android & IOS Smartphones; such as Samsung, HTC, Sony, LG, Huawei, ZTE, Oppo, Xiomi and so on. Note: This smart watch is 100% compatible with all android smartphones, Please Note: For iPhones it only supports partial functions including Pedometer, Calendar, Call Sync, Calculator, Clock, Stopwatch, Music player, Hands free + more
$
Amazingforless Bluetooth Touch Screen Smart Wrist Watch Phone with Camera – Silver
Amazingforless
HD DISPLAY: High sensitive capacitive touch screen; Perfect match technology.
CAMERA: Enjoy the convenience of snapping the best photos right from your watch.
SIM CARD: Compatible as an independent mobile phone with SIM card slot; Support up to 32GB Memory Card.
FEATURES & HEALTH MONITORS: Pedometer, Sleep Tracker, Message Reminder, Call Reminder, Answer Call, Dial Call, Remote Control, Push Message, Altitude Meter, Calendar, Music Player Anti-lost + More!
MAXIMUM COMPATIBILITY: Compatitble with all Android & IOS Smartphones; such as Samsung, HTC, Sony, LG, Huawei, ZTE, Oppo, Xiomi and so on. Note: This smart watch is 100% compatible with all android smartphones, Please Note: For iPhones it only supports partial functions including Pedometer, Calendar, Call Sync, Calculator, Clock, Stopwatch, Music player, Hands free + more
$
Amazingforless Rose Gold Bluetooth Touch Screen Smart Wrist Watch with Camera and 4GB Micro SD Card
Amazingforless
HD DISPLAY: High sensitive capacitive touch screen; Perfect match technology.
CAMERA: Enjoy the convenience of snapping the best photos right from your watch.
SIM CARD: Compatible as an independent mobile phone with SIM card slot; Support up to 32GB Memory Card (4GB Included).
FEATURES & HEALTH MONITORS: Pedometer, Sleep Tracker, Message Reminder, Call Reminder, Answer Call, Dial Call, Remote Control, Push Message, Altitude Meter, Calendar, Music Player Anti-lost + More!
MAXIMUM COMPATIBILITY: Compatitble with all Android & IOS Smartphones; such as Apple, Samsung, HTC, Sony, LG, Huawei, ZTE, Oppo, Xiomi and so on. Note: This smart watch is 100% compatible with all android smartphones, Please Note: For iPhones it only supports partial functions including Pedometer, Calendar, Call Sync, Calculator, Clock, Stopwatch, Music player, Hands free + more
$
Amazingforless Bluetooth Touch Screen Smart Wrist Watch with Camera and 16GB Micro SD Card – Rose Gold
Amazingforless
HD DISPLAY: High sensitive capacitive touch screen; Perfect match technology.
CAMERA: Enjoy the convenience of snapping the best photos right from your watch.
SIM CARD: Compatible as an independent mobile phone with SIM card slot; Support up to 32GB Memory Card (16GB Included).
FEATURES & HEALTH MONITORS: Pedometer, Sleep Tracker, Message Reminder, Call Reminder, Answer Call, Dial Call, Remote Control, Push Message, Altitude Meter, Calendar, Music Player Anti-lost + More!
MAXIMUM COMPATIBILITY: Compatitble with all Android & IOS Smartphones; such as Apple, Samsung, HTC, Sony, LG, Huawei, ZTE, Oppo, Xiomi and so on. Note: This smart watch is 100% compatible with all android smartphones, Please Note: For iPhones it only supports partial functions including Pedometer, Calendar, Call Sync, Calculator, Clock, Stopwatch, Music player, Hands free + more
$
Amazingforless Smart Wrist Watch Phone with Camera
[easyazon_infoblock align="center" identifier="B01J2EYTHY" key="image" locale="US" tag="deallagoon-20″]