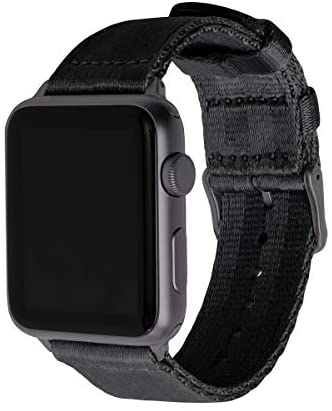 Product Description
Express your unique style
Nothing makes a watch pop like the perfect strap. Or even better, many colors of the perfect strap! It's all about stylish choices with Archer Watch Straps. Color coordinate with your outfits. Sport a new strap every day.
Look great for a long, long time
Archer Watch Straps' Seat Belt Nylon Apple Watch straps are crafted from two layers of durable, waterproof 1.2mm thick seat belt weaved nylon, with clean lines and classic styling. They'll stand up to whatever you throw at them, whether you're climbing the corporate ladder or a snow-swept mountain (Everest, perhaps). There is no place our straps won't go.
Fits all Apple Watch models
With 38mm/40mm and 42mm/44mm sizes, our Apple Watch straps will fit every Apple Watch model, including Series 1-6, Edition, and Sport.
How to install properly
Make sure that the side of the Apple Watch adapter with three black ovals is facing up and the side with the silver oval in the middle is facing down when you install the strap on your Apple Watch. If it is upside down, it won't fit properly.
EASILY INTERCHANGEABLE – Remove and replace with other colors in seconds, with no tools required. Each strap comes with its own Apple Watch adapters, so you can wear a different color every day or color coordinate with your wardrobe.
ULTIMATE COMFORT – Comfort shouldn't be sacrificed for durability. That's why we use 2 layers of the softest and strongest nylon material on the market. The end result is a silky smooth Apple Watch strap with a luxurious sheen and the strength of a seat belt. It's more comfortable than a traditional nylon strap, and more durable than a 1-layer seat belt strap.
ADVENTURE-READY – Strong durable nylon. Heavy duty stitching. Stainless steel hardware. This washable, waterproof watch strap can handle the office, the gym, the white water rafting trip – and look amazing doing it.
FLEXIBLE FIT – Archer Watch Straps' nylon Apple Watch straps will fit wrists from about 5.5″ to about 8″ around, depending on strap width and watch size, which will comfortably fit most men and women. But if you do have an issue with fit, or anything else, we offer a money back guarantee.