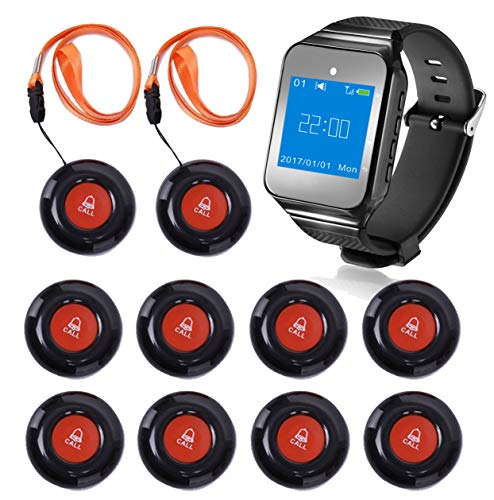 1 Wrist Pagers and 10 Call Buttons, the Idea is for Both Caregiver and Patient/Elderly/Resident/Handicapped/Sick Freedom whereas Still calling for Help at house. Not have to Yell to Get Someone's Attention.
SMART CAREGIVER ALERT: Vibration or Audible Prompt for alternative. Wake Up the Night Shift Caregiver Only, And not wakeup/disturb the others.
Transmitter/Push Call Button is Waterproof. Acceptable for Meal/Soup Splash. And Allow to be Installed within the Washing Room.
Transmitter/Push Call Button is Easy Carry. It can Be Put in Pocket. Or Hang on neck as Pendant. Neck Strap included. Fixed in Bedside/Washing Room. The Fixed Bracket and Double sticker are included.
Both Pager/receiver and Call button are powered by Built-in battery. Pager battery is Rechargeable. Standby time about 3 days. DC 12V 23A Call button battery. Standby time about 1 yr.