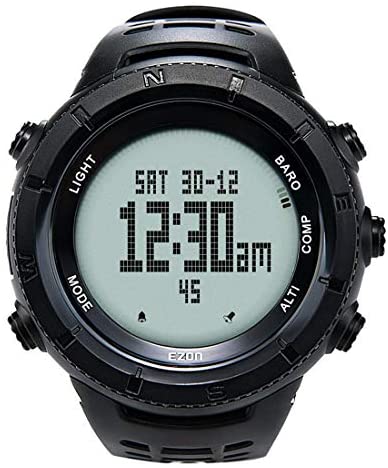 Product Description
HIKING WATCH

ABC Technique For Touching The World
About EZON
EZON is a leading brand that integrates sports watch, wearable intelligent technology and cloud service platform together. Based on highly precision manufacturing technology. Excellent design and technology developing team devotes to provide perception sports data, we have been continuously exploring the perfect combination of intelligence and sport and achieve self-transcendence. Those all aim to provide best sport watch for you.
EZON Men's Altimeter Barometer Compass Watch

Model: H001H11
EZON H001 hiking watch is the perfect companion for mountaineer, sports amateur, traveling fans or any other outdoor sports enthusiast.
This watch take greater advantage of mountaining activities. The built in sensors allow you to track your Altitude, Barometric Pressure and Compass directions. It will make you put down your mobile phone and can furthest enjoy the outdoor activities you love.
Altimeter, Barometer, Compass
Thermometer, Weather Forecast
Sunrise and Sunset times
Alarms, 24 Time Zone / World Time of 48 Cities
164ft / 5ATM Waterproof
Main Feature

Altimeter
Built-in altimeter determines your current elevation, shows how much you've climbed or descended, and records your entire session for later analysis. Accurate to within 30,000 feet, the altimeter is an extremely valuable tool for mountaineering, backcountry skiing, and wilderness travel.
Barometer & Weather Forecast
Forecast sudden alterations in the weather by keeping a close eye on the air pressure trend. Help you take the necessary precautions to make your journey safe and successful.
The barometer which measures and records air pressure to help you predict changing conditions–from sunny skies to hair-bending electrical storms. In general, low pressure brings inclement weather, while high pressure brings stability and clear skies.
Compass
Navigate and pinpoint locations to safely find your way through wilderness and in whiteout conditions.
No outdoor watch is worth its salt without a digital compass, a great tool for keeping track of your direction while skiing, hiking, or exploring a new city. You can set and follow a bearing with a traditional rotating bezel, or simply point the top of the watch toward your intended destination and lock it in.
Waterproof 5ATM
Water resistant to 164 FT/50M/5ATM, it is completely dustproof and waterproof. It can perfectly accompany you in daily life and all kind of sport. Wherever you go, like taking a cold shower, running in the rain, swimming and playing at the beach, Crossing a primeval forest, etc. This item will be your best companion.
NOTE: Don't press any buttons underwater, and in case of damaging waterproof ring, please keep it away from steam and hot water.
Product Parameter
Dial Diameter: 1.77 inchDial Thickness: 0.59 inchBand Width: 0.98 inchNet Weight: 0.14 poundsGross Weight(paper box package included): 0.39 pounds
Packing list
Packing BoxWatchLabelInstruction
Best for

ABC Watch: An altimeter tracks your vertical movement, a barometer tells the trend in air pressure, a compass points the way, and a thermometer with weather trend indicator notifies you of approaching conditions;Tracks the current situation along with preset sunrise/sunset times,help you stay safe and plan your activities.
Multi-Function: Altimeter displays current elevation, shows ascent or descent and records session; Barometer helps you predict changing conditions; Digital watch combines with Clock, Stopwatch, World time, Countdown timer, Hourly chime, Calendar, etc. To bring you more convenient and comfortable outdoor sports.
High Quality & Waterproof: 18 months long battery life and built-in Swiss high precision sensor; 164 Ft /50M/5ATM water resistance helps you do all kinds of indoor/outdoor sports or daily use freely. It's a great companion for swimming, climbing, cycling, fishing, adventure and etc.
Comfortable & Fashionable: Lightweight, PU material wristband with hollow style make it comfortable to wear; Sporty dial design, military style outlook lead you to the edge of sport fashion.Great gift for familys and friends.
Satisfaction Guaranteed: Buy with confidence. 30-day full refund policy, 12-month new replacement warranty and friendly customer service.