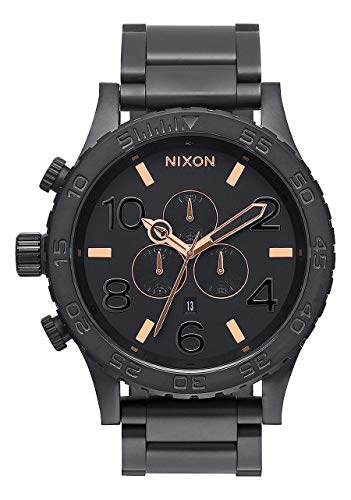 MAKING THE LITTLE STUFF BETTER.
We make the little things better. The small stuff that can't be ignored. We pay attention to it. We argue about it. We work day and night to make the little things as good as they can be, so that when you're wearing our products, you feel like you've got a leg up on the rest of the world.
TEAM DESIGNED.

The 51-30 Chrono watch combines good looks, brains, and brawn. The small (big) details that go into this watch's design such as large numbers, durable materials, and waterproof capability make it the perfect accomplice along epic excursions.
SOCIAL RESPONSIBILITY.

Nixon's Supplier Code of Conduct ensures all of our suppliers are adhering to socially-responsible business practices, meaning all products are produced under lawful, humane, and ethical conditions.
ACCESSORIES THAT REFLECT WHO WE ARE & THE LIFE WE LIVE.
Fueled by adventures far and wide, and sometimes by those that happen unexpectedly, we deliver products that meet your needs. We travel the globe to fully experience life, and those experiences take shape in the things we create.
EXPRESS YOURSELF.
Style is an extension of who you are. When you wear a watch, you deserve to have something that reflects your entire package. We're here to provide that voice to the personalities and characteristics that can't be put into words.
51-30 CHRONO, BLACK/ROSE GOLD. A leader in the oversized trend, Nixon's 51mm all black and rose gold Chrono watch is handsome, easy to read, and well-equipped.
SUPERIOR FUNCTION. A waterproof watch that offers more than just the time, the Chrono also features 3 CD textured subdials and 6 custom-molded hands so that multitasking becomes second nature.
DURABLE CONSTRUCTION. This watch is no joke. It is masterfully built with a stainless steel/Acetate band, a double locking clasp, and strategically placed crown and pushers to prevent "wrist bite" while surfing.
FUELED BY ADVENTURES. We deliver products that meet your needs in various high-intensity work and play environments, whether it's across the globe or close to home.
FOR A LIFE WELL LIVED. Through our dedicated teams perspectives, we contribute to a single unified expression: team-designed, custom-built accessories. For a life well-lived.