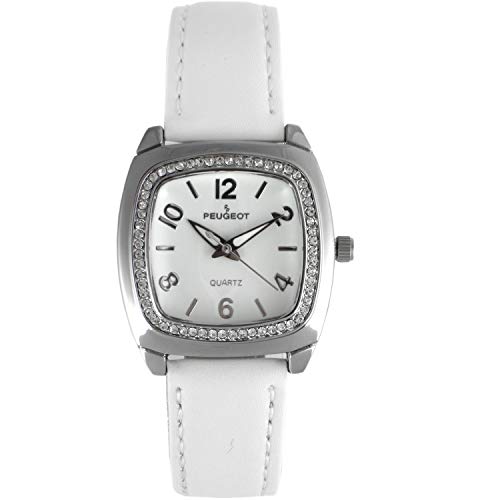 Peugeot watches have been redefining fashion since 1957. At its inception, Peugeot was a manufacturer of luxury, handcrafted, gold timepieces. After a successful twenty five year run in the luxury category, rising gold prices and market changes dictated a new direction. Peugeot quietly reinvented itself into a well-designed, high-quality watch line at affordable prices. This strategy led to the formation of a new marketplace which later became known as fashion watches. The ability to translate high fashion trends into a watch line that appeals to customers with an eye on style and price has led to Peugeot's recognition as a proven successful American brand found in better department stores nationwide.
LIFETIME LIMITED WARRANTY
Your P.Peugeot® timepiece is warranted against defects solely to the working mechanism for its lifetime. P.Peugeot® will replace them FREE OF CHARGE, provided watch is returned to our service center with payment of $8.95 to cover postage and handing. (This is not a repair charge and no other charge will be made) Accidental damage or defects to other parts not covered by the warranty, such as battery, case, crystal, stem, crown, strap, and bracelet will replaced at minimal cost of parts only. All other conditions of warranty apply.
Replacement straps and bracelets are available.
Whenever service is required, return watch carefully packed and insured to:
P.PEUGEOT SERVICE CENTER
140 58th Street, 7F
Brooklyn, NY 11220
Your watch will be returned within 10 working days of receipt.
To avoid delay, please make sure to include proper payment and your return address (no P.O. Boxes as we ship UPS).
FREE Battery Replacement
In order to register your watch, please fill out form on your warranty card and return it to the address given (retain a copy of the warranty conditions for your records). Or visit our web site to register.
Rectangular 28MM Rectangular Case with Crystal Accented Dial
This eye-catching look is both impressive and functional.
Fitted with reliable Quartz accurate movement manufactured by Seiko
Backed by Peugeot's industry leading Limited Lifetime Warranty and FREE lifetime battery replacement (details found on warranty)