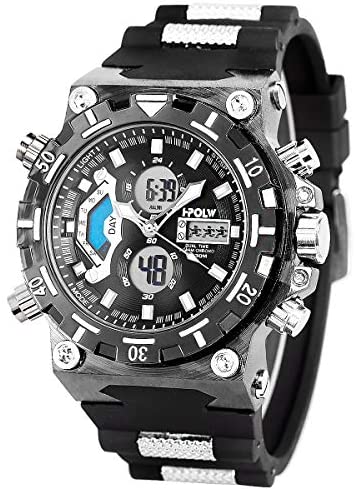 Product Description
Features:
Individualized Design — Sport Watch Large Face Waterproof Military — Men Japanese Quartz LED and Analog Display Wrist Watch — Chronograph Alarm Date Day Wrist Watch. Perfect for Black Friday, Cyber Monday, Halloween, Thanksgiving, Christmas, New Year, Valentine's Day, Easter Day and Father's Day Gift
How to make use of/set quartz wrist watch?
Pull the crown away from base of the watch and switch the crown clockwise till reaching the precise time.
NOTE:
1.Please DO NOT PULL OUT the Button Underwater. Use in excessive Hot or Cold temperature will shorter watch life.2.Clean the strap by a mushy material on common bases is very really helpful.3.Too a lot water contact will shorter watch life.
For Your "LOVE"

Specification (1 cm = 10 mm = 0.394 inch) (approx)
Case diameter: 47.5 mm approx.
Case thickness: 17 mm approx.
Band width: 28 mm approx.
Band size: 28 cm approx.(Buckle included)
Band materials: Silicone
LOVE "SIBOSUN"
LOVE SPORT
LOVE CHALLENGE
Package Included
-1 x Wrist Watch
-1 x Gift Box
Colors For Choice
Black & Silver & Gold
Blue & Gold
Black Blue & Black Gold
Black Red & Blue Silver & Blue Gold & Black Gold
Silver & Gold
Brown & Green
Band Material
Mesh Stainless Steel
Blue & GoldMesh Stainless Steel
Mesh Stainless Steel
Mesh Stainless Steel
Mesh Stainless Steel
Lizard Grain Leather
Colors For Choice
Black
Silver & Gold & Rose Gold
Black & Silver & Bronze
Black & Bronze
Silver & Gold & Bronze
Black & Silver & Bronze
Package
Six True Words Mantra Pi Xiu Bracelet : 1pcs + Thermochromic Material Pi Xiu Bracelet : 1pcs + Feng Shui Black Obsidian Wealth Bracelet : 1pcs
Watch + Gift Box + Gift Card + Manual's Instructions
Watch + Gift Box + Gift Card + Cowboy Chain + Manual's Instructions
Watch + Gift Box + Cowboy Chain + Manual's Instructions
Chain + Pendant
"SIBOSUN" Chain
💡 Know You Time Anytime And Everywhere – SIBOSUN Men's Watches Large Oversized Dial Design Military Watch, Big Indexes & Clear Digital Numerals Display Let You Easily To Read Your Time. Even Low Light Environment Can Not Stop You To Know Your Time Because Of The Back Light Function.
🏍️ Individualized Design – Mens Sports Watches Waterproof Military Watch – MULTIFUNCTION With LED and Analog Display , Stopwatch/Chronograph, Alarm, Date, Day, Back Light, Dual Time, 12/24 Hours Selection Men Japanese Quartz Large LED Digital Wrist Watch. Perfect for Black Friday, Cyber Monday, Halloween, Thanksgiving, Christmas, New Year, Valentine's Day, Easter Day, Mother's Day and Father's Day Gift
🏆 High Quality – Accurate Imported Japanese Quartz Movement Ensures Precise Time, Soft Silicone Strap Brings You A Comfortable Wearing Experience. Back Light Function Will Help To See In Dark Environment. Applicable To Various Outdoor Sports And Camping.
☎️ WITHIN 24 HOURS Customer Service ☎️ – If You Have Any Question Or Problem, Please Follow The Steps To Contact Us First, Thank You Very Much.—- Before Placing An Order — 1. On The Product Detail Page Click On The Name Of The Seller. 2. On The Next Page, At The Top Right, Click Ask A Question.—- After Placing An Orde –1. Go To Your Orders, Find Your Order In The List. 2. And Click Get Help With Order. Our Professional Customer Team Is In Touch For You ☎ Within 24 Hours.☎