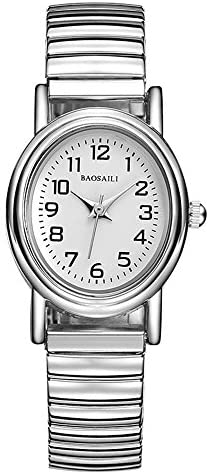 ✅Main Features:
—Retro Stylish Design : Casual Spring Elastic Band Small Dial Watch Designed For Ladies and Gents.
— High Quality Japan Quartz Movement And Battery: Time Goes Precisely, Long Battery Life
— Highly Transparent Hardlex Lenses: Scratch Resistant And Shock Resistant, Easy To Read Time.
— High Quality Stainless Steel Strap: Comfortable To Wear, Soft, Flexible And Durable
— 3Atm Water Resistant: This Watch Supports Daily Life Waterproof Like Hand Wash, Splash, Sweat;
✅Product Specifications:
* Case Diameter: 0.71 in
* Case Thickness: 0.39 in
* Band Width: 0.47 in
* Band Length: 7.09 in, Adjustable
* Band Clasp Type: Spring Bracelet
✅Material:
* Case Material: Stainless Steel
* Band Material: Stainless Steel
* Mirror Surface: High Hardness Resin Glass
✅Applicable Occasion:
* As A Present For Sending Leaders, Bosses, Relatives, Friends,colleagues, Classmates, Girlsfriends, Boyfriends, Students, Neighbors, Teachers, Wife, Mother, Husbands, Fathers,Brothers, Uncles,Sisters, Aunt,
* As A Gift For Christmas, Birthday, Anniversary, Mother's Day, Father's Day, Party,Halloween,Thanksgiving,Graduation Or Valentine's Day.
✅Kind Note:
* Please Avoid The Use In Extreme Hot Or Cold Temperature.
* Clean Watch By A Soft Cloth Regularly Is Highly Recommended.
* Too Much Water Contact Will Shorten Watch Life.
* Don't Press Any Buttons And Use It For Long Time Underwater.
✅Pay Attention:
— If Any Dissatisfaction, Please Contact Our After-sale Team Directly.
— 7 Days Unconditional Return And 3 Months For Replacement Or Full Refund For Quality Issues
✅Perfect Package:
— 1 X Watch
— 1 X Watch Box
— 1 X Good Service
💧 𝐏𝐫𝐞𝐜𝐢𝐬𝐞 𝐓𝐢𝐦𝐞 𝐤𝐞𝐞𝐩𝐢𝐧𝐠- Original japanese digital motion, present exact and correct time protecting.
💧 𝐃𝐮𝐫𝐚𝐛𝐥𝐞 𝐖𝐢𝐭𝐡 𝐂𝐨𝐦𝐟𝐨𝐫𝐭- High Hardness and Scratch Resistant Watch Case, manufactured from Glass Lenses, excessive transparency.
💧 𝟑 𝐀𝐓𝐌 𝐖𝐚𝐭𝐞𝐫𝐩𝐫𝐨𝐨𝐟- 98 Ft / 30 M waterproof,this watch helps each day life waterproof like hand wash, splash, sweat; Don't soak it within the water.
💧 𝐒𝐩𝐞𝐜𝐢𝐟𝐢𝐜𝐚𝐭𝐢𝐨𝐧 – Case Diameter: 0.71 in , Band Width: 0.47 in , Band Length: 7.09 in ; Weight: 0.06 lb ;
📞 𝐖𝐚𝐫𝐫𝐚𝐧𝐭𝐲- 3-Month Warranty and 30 day 100% Money Back Full Refund assure.If you've got any questions, please contact us.