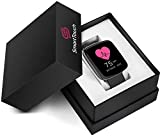 Smart Touch GV68 Smart Watch w/Changeable Wrist Bands, IP68 Waterproof, Built-in Mic and Speaker | Bluetooth | Sleep & Heart Rate Monitor, Pedometer, Remote Camera | Men, Women (Green)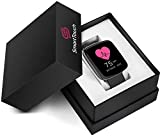 Price: $99.99
Color: GREEN
Model: Smart Touch
Brand: Smart Touch
Features
True Fitness Watch – Stylish and versatile, these smart watches for men and women use Bluetooth 4.0 technology to track your heart rate, steps taken, sleep, sedentary behavior, calories, and sedentary and drink reminders, an alarm clock, and more!
Real-Time Connectivity – The GV68 smartwatch also features an HD mic that lets you make or accept calls, remote music and camera access, SMS and text message alerts, connectivity to Facebook, Twitter, and WhatsApp, and other daily needs.
Outdoor, Waterproof Design – The scratch-resistant 1.54" LCD screen, aircraft-grade aluminum bezel, and IP68 waterproof rating keep your watch safe while you're in the shower, swimming, playing at the beach, or sweating on a hard workout.
Interchangeable Wristbands – Along with connecting to iOS and Android devices our smart watch faces can be paired with a wide range of fun, colorful, or stylish bands to better match your personality or unique style.
Premium Gift and Storage Box – These smart watches for men and women also come with a high-quality, reusable box with soft PU leather lining and sleek, black touch paper exterior.
New from $99.99 (1 offers)
Used from $59.99 (1 offers)