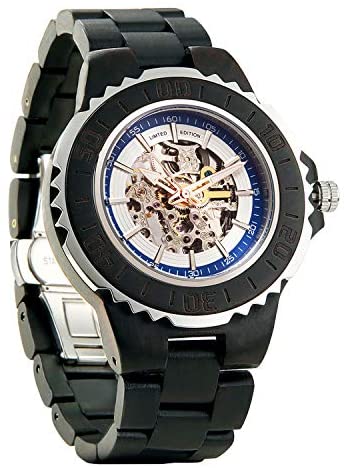 Product Description
Nothing shows the style of a man than his appreciation for the exotics. One of the easiest means to achieve this is through a luxury watch that beats your imagination. Therefore, we welcome you to our unique timepiece that's designed for a unique you.
Coming in a luxurious finish, these timepieces meet the highest standards while boasting an unmatched level of craftsmanship, authenticity, and quality that sets it apart from its peers. Inspired by the physical world around us, the Wild Woods Automatic Movement – Self Winding Mechanical Wood Watches is designed to offer ease and efficiency in every bit of your day.
WE SOURCE BEST WOOD TYPE

Ebony Wood
"Ebony is a dense black hardwood, most commonly yielded by several different species in the genus Diospyros, which also contains the persimmons"
Zebra Wood
"Zebrawood is used to describe several tree species and the wood derived from them. Zebrawood is characterized by a striped figure that is reminiscent of a zebra"
Kosso Wood
"Kosso tree provides some of the finest wood from dry forests. The wood is a beautiful, rich rose-red or dark brown, mottled with dark streaks"
Rose Wood
"Rosewood refers to any of a number of richly hued timbers, often brownish with darker veining but found in many different hues"
A Perfect Blend

Made from premium luxury woods that are handpicked by experienced furniture makers and coming in a splash-proof finish that's uncommon with the leather bands and low-quality metals, this Self Winding Mechanical Wood Watch boasts a perfect blend of comfort, nature, and durability.
Handmade to Perfection

Our Timepieces are handmade to meet the highest standards. From careful wood selection to its finishing, every watch comes with an expert's finish of perfection. Each wood is hand sanded and polished to a smooth, durable finish using traditional woodworking techniques.
Exquisite to the Touch

Made from purely handpicked woods that are hand sanded and polished to a smooth finish, these watches come in unique appearances. Run through with your fingers and truly feel the luxury. As a matter of fact, they also blend with the season, ensuring they don't get too cold during winter while they maintain an average temperature during summer.
Posses the Moment

We have built our production process on the latest mechanics which makes it possible for our watches to bind two important constructs- raw material and exquisite design. This timepiece provides the perfect bridge that combines these constructs to help you possess the moment, no matter the event.
A Perfect Blend
Handmade to Perfection
Exquisite to the Touch
Posses the Moment
A RARE GEM THAT POSSESSES YOU

Stunning Skeleton Design
This watches come in a skeleton design that's usually reserved for watches with significance. Combined with is truly 100% natural & original wooden finish, these Automatic Movement – Self Winding Mechanical Wood Watches offer a fresh approach to a classic tradition. It's simply a unique yet functional work of art!
Luxury in Movement
Coming with an automatic, engraved, self-winding 18 jewel bearing movement with a 36 hours power reserve, these watches offer a unique approach to battery-free timekeeping. Now you can keep time without having to worry about battery life.
Precision in Timing
We have designed this timepiece using the latest timing mechanics. This has helped to ensure the accuracy can be as little as +/- 3 seconds per day. Unlike the battery driven watches, this automatic self-winding watch is a long-lasting timepiece, without the worry of a battery. It doesn't get better than this!
BEYOND THE BOUNDARIES OF EXCELLENCE

Rare & Exquisite Finish
Wild Woods sources only truly 100% natural hardwood while refraining from the use of toxic chemicals like dye, treat, stains or protect the wood. This simply means there is never a watch that comes with a finish as yours.
Stand the Test of Time
Designed and crafted from the purest of hardwood material handpicked by expert furniture makers and coming in an expert's finish that sees it showcase a smooth, durable finish using traditional woodworking techniques, this timepiece is a trendy investment that's sure to get better with time.
A True Companion
This jewelry comes in a unique in design, serving as an important part of your style which indicates an appreciation for the exotic. It is purely handmade with no paint and chemicals used, making it a perfect watch that's sure to stay with you for years to come. There is no better companion!
A Watch that's True to You
We understand that the easiest means to showcase your knowledge, style, and class is through a unique piece of accessory that defines you. Therefore, this watch has been crafted to have a patina entirely unique to you over time. It's a True Gem that's True to You.
Gift Box Included
All of our wood watches are packaged in a map printed, paper gift box that speaks to the wanderer or traveler in men both young & old; husbands, brothers, dads & boss will all love it!
Dimensions & Materials

Wood Frame: 1.81 inGlass Face: 1.2 inFrame Thickness: 0.51 inBand Width: 0.98 inFrame Material: Natural wood/Stainless SteelBand Material: Natural woodSuitable for everyday use. Splash/rain resistantTempered Glass, scratch proof
HANDCRAFTED TO PERFECTION: We make our timepieces to the highest standards of craftsmanship, authenticity and quality. All wood is hand sanded and polished to a smooth, durable finish using traditional woodworking techniques. No two pieces are the same. Our wood watches for men are the trendy investment pieces you've long been waiting for.
PREMIUM MOVEMENT: Automatic, engraved, self-winding 18 Jewels bearing movement with a 36 hours power reserve, battery free time keeping. Accuracy can be as little as +/- 3 second per day. Unlike battery driven watch, your Infinity watch is long-lasting timepiece without the worry of flat battery. The movement is beautifully engraved to make the watch stands out from crowd. It is definitely a conversation starter.
PERFECT GIFT FOR HIM: Every watch is packed with a well-designed hard paper gift box and comes with an easy to use band adjustment tool. So it can fit to any wrist size. Unlike leather bands and low-quality metals, our hand-selected, premium hardwoods do not deteriorate or become brittle due to every day wear. High quality toughened glass protects the exquisite dial and won't scratch or scrape easily. It is an ideal gift for birthday, anniversary, Christmas, Father's Day and Valentine's Day.
SATISFACTORY GUARANTEED: Every purchase of this watch comes with a 1 year warranty and 100% money back guarantee within 30 days of delivery should you not satisfied with our product.