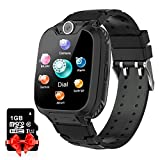 YENISEY Kids Smart Watch with SD Card Game Watch for Boys Girls Two-Way Call Music Player Camera for Kids Children Birthdaty Gift (Black)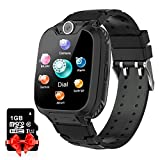 Price: $29.99 – save $6.00 (17%)!
Color: Black
Model: SM-R810NZKAXAR
Warranty: Lifetime
Brand: YENISEY
Features
Mp3 Player & Camera & recorder: With the free 1GB Micro SD card, you can take a selfie, record your voice, and save it in your watch. You can upload pictures and voices on your computer via an SD card reader. Also can play music from the memory card by selecting the audio player
Fun games: there are seven game in this watch, include 2048, Basketball Shooter, Bee War, Pinball hit bricks, Car Grab, Eat Gold, The Ultimater Racin.
Two-Way communication. It can be setted the phone number of Dad and Mom, and make and receive calls are available. ( The watch only support 2g GSM, and we recommended the Speedtalk in US.)
More functions: Time and date, Alarm clock, Album, Record, Calculator, Support multiple languages: English, French, Spanish, German, Italian.
Tips & Service. To use the calling function, simply purchase a 2G SIM card and turn on the voice package. We support 100% customer service. Any problem please be free to contact us anytime, and we will try best to help you.
Used from $24.96 (1 offers)
New from $29.99 (1 offers)