Dictac Wrist Watch Women Fashion Analog Black
Dictac Wrist Watch Women Fashion Analog Black Leather Leisure Dress Watch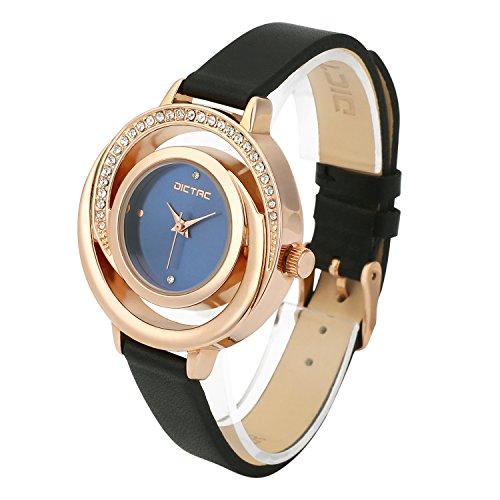 Dictac Wrist Watch Women Fashion Analog Black
Features:
1) Original Japanese Quartz Movement: provide precise and accurate time keeping.
2) Original Japanese Battery can last at least 12 months.
3) Alloy case with protective mineral looking glass.
4) Fashion Round Pearl Fritillaria makes you outstanding when you wear it.
5) Normal Water Resistant: daily use waterproof, not suitable for underwater activities such as shower, swimming, ect.
Specification: 
•Dial Case Thickness: 7mm
• Band width: 12mm
• Total Length: 230mm
• Watch Weight: 50g
• Total Weight: 120g
Package
• 1 white gift box
• 1 watch
NOTE:
• Please do not wear this watch in extreme hot or cold temperature.
• Too much water contact will shorter watch life.
• The time setting is China time, please adjust it when you receive it.
Dictac Wrist Watch Women Fashion Analog Black
Product
Brand
Feature
List Price
D.i.c.t.a.c  W.rist W.atch W.omen F.ashion A.nalog B.lack L.eather L.eisure D.ress W.atch
Dictac
Pearl Fritillaria Dial with business casual design.Combines quality, leading edge fashion, and value. Suit for commercial negotiation, dating, party and other all daily life.
Leather watchband and stainless buckle, provide comfortable wearing experience and will not scratch wrist.
Lady analog watch with concise time mark, bring you the back to the classic while you are wearing it.
Coming with professional White Gift Box , nice present for Valentine's Day, Thanksgiving and Christmas, also a good present for friends and families.
98ft waterproof (30M) – 3ATM. Perfect for all kind of business, casual, indoor activities or daily use.
$
D.i.c.t.a.c W.rist W.atch W.omen and Girl Analog Sky Blue Leather Watchband Dress Watch
Dictac
Pearl Fritillaria Dial with business casual design.Combines quality, leading edge fashion, and value. Suit for commercial negotiation, dating, party and other all daily life.
Leather watchband and stainless buckle, provide comfortable wearing experience and will not scratch wrist.
Lady analog watch with concise time mark and elegant design, bring you the back to the classic while you are wearing it.
Coming with professional White Gift Box , nice present for Valentine's Day, Thanksgiving and Christmas, also a good present for friends and families.
98ft waterproof (30M) – 3ATM. Perfect for all kind of business, casual, indoor activities or daily use.
$
D.i.c.t.a.c W.omen Ladies Girls Chic Analog Quartz Crystal Dial Wrist Watch Band Bracelet
Dictac
Quartz movement with analog display
Protective glass dial window
Features bangle bracelet clasp closure
Case Material: Crystal/Alloy
100% brand new & high quality
$
D.i.c.t.a.c W.rist W.atch W.omen and Girl Analog Leather Watchband Pearl Fritillaria Watch
Dictac
Pearl Fritillaria Dial with business casual design.Combines quality, leading edge fashion, and value. Suit for commercial negotiation, dating, party and other all daily life.
Leather watchband and stainless buckle, provide comfortable wearing experience and will not scratch wrist.
Lady analog watch with concise time mark, bring you the back to the classic while you are wearing it.
Coming with professional White Gift Box , nice present for Valentine's Day, Thanksgiving and Christmas, also a good present for friends and families.
98ft waterproof (30M) – 3ATM. Perfect for all kind of business, casual, indoor activities or daily use.
$
Dictac Wrist Watch Women Fashion Analog Black
[easyazon_infoblock align="center" identifier="B01BTJ76UC" locale="US" tag="deallagoon-20″]