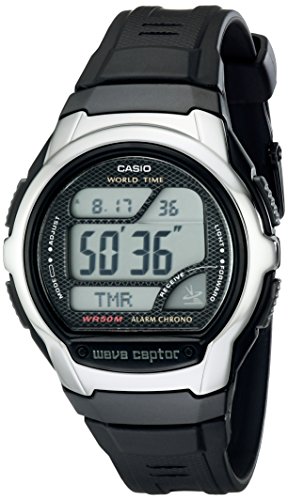 Casio Men's WV58A-1AVCR Waveceptor Atomic Digital
Casio Men's WV58A-1AVCR Waveceptor Atomic Digital
Casio Men's WV58A-1AVCR Waveceptor Atomic Digital
Product
Brand
Feature
Manufacturer
Model
Casio Men's WV58A-1AVCR Waveceptor Atomic Digital Watch
Casio
Shock-resistant sport watch with silver-tone topring, world time, and auto EL backlight with Afterglow
44 mm stainless steel case with mineral dial window
Quartz movement with digital display
Resin band with buckle closure. Imported
Water resistant to 50 m (165 ft): In general, suitable for short periods of recreational swimming, but not diving or snorkeling.
Casio
EAW-WV-58A-1AV
Casio Men's WVA-M640D-1ACR Wave Ceptor Analog-Digital Stainless Steel Bracelet Watch
Casio
Stainless steel ana-digi watch that receives time-calibration radio signals to maintain accuracy
Features multi-band atomic timekeeping, manual and auto receive functions, solar power, LED light, luminous hands and markers, world time, 29 time zones, city code display, Daylight Saving on/off, day-of-week display in five languages, five daily alarms, hourly time signal, 1/100-second stopwatch, countdown timer, full auto calendar, and 12/24-hour formats
Please note that the home city MUST be correctly selected in order for the time to function properly.
Stainless steel bracelet with deployant-clasp closure
Water resistant to 100 m (330 ft)
Casio
WVA-M640D-1ACR
CASIO watch WAVE CEPTOR Waveceptor radio clock MULTIBAND 5 WV-59DJ-1AJF mens watch
N/A
Case size: 38.3 mm × 39.0 mm.Battery life 2 years.Battery life 2 years.Operation sound ON / OFF switching function.12/24 hour display switching.
Accuracy: within ± 20 seconds / month (when not receiving).5 ATM water resistant.
Radio reception function: Automatic reception (6 times / day) / Manual reception, Japan, North America, European multi band 5
World time function: Time display of 48 cities (29 time zones) in the world, with daylight saving time setting function.
Stopwatch, timer.Multilingual Day Diary Diary (9 languages).Month / day replacement function.Time alarm time report
Casio
WV-59DJ-1AJF
Casio Men's 'Wave Cepto' Quartz Stainless Steel and Resin Watch, Color:Black (Model: WV-M60-9ACF)
Casio
Multi-Band Atomic Timekeeping; Auto Receive Function
Wave Captor; 50M Water Resistant
Quartz Movement
Case Diameter: 44mm
Water resistant to 50m (165ft: in general, suitable for short periods of recreational swimming, but not diving or snorkeling
Casio Men's 'Wave Ceptor' Quartz Stainless Steel and Resin Watch, Color: Black (Model: WV-M60-9ACF)
Imported
Casio
WV-M60-9ACF
CASIO WAVE CEPTOR (WVA-M640B-1A2JF) 6 MULTI BANDS SOLAR MEN'S WATCH JAPANESE MODEL 2014 JULY RELEASED
Casio
Casio Wave Ceptor Series
10 Bar Waterproof
Multi Band 6 Reception
Solar Powered
World Time
Casio
WVA-M640B-1A2JF
Casio Men's WV200DA-1A Multi-Task Gear Waveceptor Sports Watch
Casio
Waveceptor multi-task gear, atomic timekeeping, EL backlight with afterglow
World time, daily alarm, countdown timer, stopwatch
In order for the time to stay set for their time zone they MUST change the Home City function as well.
12 and 24 hr formats, button tone operation on/off
Stainless steel band
Water resistant to 660 feet (200 M): suitable for recreational scuba diving
Casio
EAW-WV-200DA-1AVES
Casio Men's WVA-M640-1ACR Solar Powered Wave Ceptor Stainless Steel Watch with Black Resin Band
Casio
Solar-powered ana-digi watch that receives time-calibration radio signals to maintain accuracy
Features multi-band atomic timekeeping, LED light with after-glow, luminous hands and markers, world time, 29 time zones, city code display, Daylight Saving on/off, day-of-week display in five languages, five daily alarms, hourly time signal, 1/100-second stopwatch, countdown timer, full auto calendar, and 12/24-hour formats
The watch needs to be fully charged in direct sunlight before trying to use. Also, the 'Home City' must be selected for the item to work correctly.
Resin band with buckle closure
Water resistant to 100 m (330 ft)
Casio
WVA-M640-1ACR
Casio Men's WV58A-1AVCR Waveceptor Atomic Digital
Casio Men's WV58A-1AVCR Waveceptor Atomic Digital
You can be on time and in style with the Casio Men's Waveceptor Atomic Digital Watch #WV58A-1AV. Features include a digital gray dial face and a sturdy mineral dial window, as well as an easy-to-read time display and a handy day-date-and-month calendar. Other innovative features include an hourly time signal, a countdown timer, and a daily alarm. A sleek black resin band is accompanied by a secure buckle clasp, and both the stationary bezel and 43-millimeter case are made of stainless steel. Perfect for casual wear, this handsome timepiece showcases your high-tech aptitude. The watch is powered by digital-quartz movement and is water resistant to 165 feet.
Shock-resistant sport watch with silver-tone topring, world time, and auto EL backlight with Afterglow
44 mm stainless steel case with mineral dial window
Quartz movement with digital display
Resin band with buckle closure. Imported
Water resistant to 50 m (165 ft): In general, suitable for short periods of recreational swimming, but not diving or snorkeling.
Casio Men's WV58A-1AVCR Waveceptor Atomic Digital